I don't know what it is about a hairless Sphynx cat that I find so fascinating, but I've always wanted to paint one. At first I thought they were so ugly they were cute, but now I only see how beautiful and interesting they are.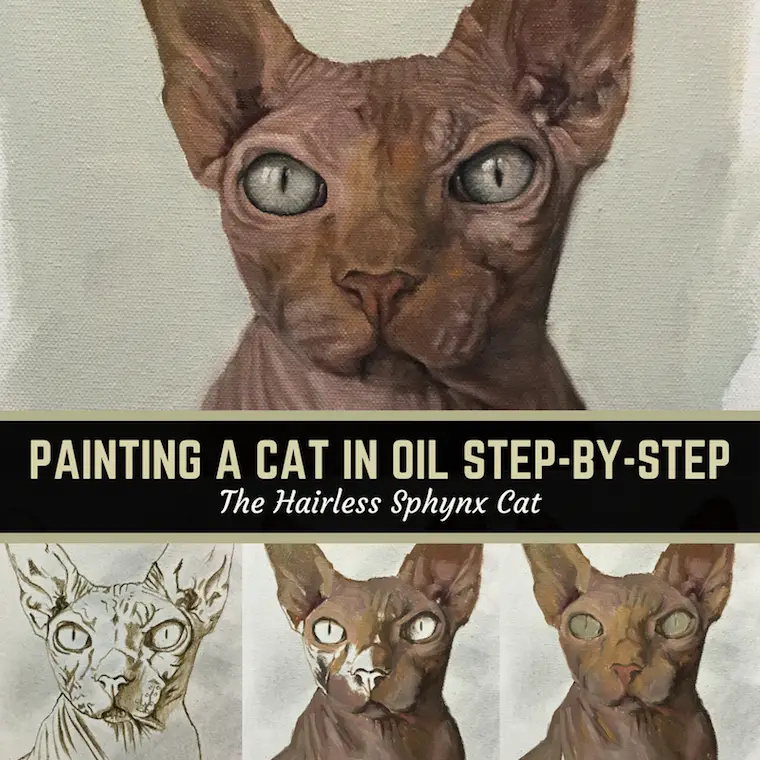 Below is my portrait of "Harry" the hairless Sphynx cat which technically is still unfinished, but I'm not sure if I'll ever finish it. If I do, there will be an update to this post in the future!
My Approach To Painting Harry, The Hairless Sphynx Cat
I took photos and a few videos while painting this portrait thinking I would put together a "how to" guide like I did for my painting of Chewy, but it was a lot of work and not many people seemed to interact with the Snapguide site (at least they didn't interact with what I did – boo). It's a really popular site for recipes, so worth checking out.
Note: some of the links below are affiliate links. As an Amazon Associate I earn from qualifying purchases.
Painting A Sphynx Cat In Oil – Step 1
First I start with a charcoal sketch on canvas and then paint over the charcoal with burnt umber. I did this in acrylic paint. You can start an oil painting with acrylic as long as the canvas isn't oil primed. You can't put acrylic on top of oil but you can put oil on top of acrylic. Since I'm really comfortable with acrylic and wanted this to dry fast, this was a great approach for me.
As you can see in the photo below, I rubbed off the charcoal after finishing the sketch in burnt umber leaving a dirty charcoal smudge on poor Harry.
Painting A Sphynx Cat In Oil – Step 2
The next step for me was to start blocking in the dark areas. This time I'm painting in oil. By painting in the dark areas first, you can start to see the form of Harry come to life.
Painting A Sphynx Cat In Oil – Step 3
This isn't necessarily a "step" but rather something I'm constantly doing as I paint. Here you can see the reference photo I'm painting from. Whenever possible, I use a reference photo that is exactly the same size as my painting so I can use the sight-size method. This helps with measuring and seeing differences quickly when looking back and forth from the original image to the painting.
Painting A Sphynx Cat In Oil – Step 4
After I've established my dark areas, I begin to block in my mid tones, careful not to get too much white in my paint. If you get to much white too early on in oil, it's hard to bring darker areas back down.
Painting A Sphynx Cat In Oil – Step 5
The cat is fully blocked in and FINALLY I get to start on the eyes. This is my favorite part. To me it's really hard to paint an animal or a person if I don't have their eyes in. As you can see blow, Harry's eyes are looking a little dull.
Here is another quick check against the photo. I spend a lot of time squinting my eyes to see the differences in values and make any necessary changes.
Painting A Sphynx Cat In Oil – Step 6
The eyes on this cat are so cool that I couldn't help but go ultra realistic with it. I'm always torn between executing in a more painterly style or hyper realistic style. With eyes I sometimes make them much more detailed and leave the rest of the painting more loose. This helps direct the focus to the eyes.
Painting A Sphynx Cat In Oil – Step 7
Wow, I feel much better now that the other eye is in. When painting eyes, there will almost always be shadows on the top under the lid which a lot of beginning artists miss. With Harry's eyes, the iris is darker along the edges as well. The eyes never look like eyes until you add the glassy highlight, so I'm always anxious to paint that in.
Finishing The Painting
In the shot above, you can also see how I've approached the wrinkles. I paint in the darker parts of the wrinkles and then build in lighter tones in between to add depth. I think of them like painting little mountains. You can get lost painting so many wrinkles, so taking breaks and stepping back to check the work is helpful.
As I said at the beginning, I don't think this painting is finished as I could get in and really add more detail to the skin folds. However, I'm not sure I want to go ultra realistic with this painting. More likely I will add in a few highlights here and there and call it good.
The Progression Of Harry
Below you can see the major steps all together. First the line drawing, followed by blocking in the dark areas. Then the mid tones are blocked in. After that it's all detail work, checking for differences and making adjustments.
The Sphynx Cat – A Couple Studies In ArtRage
As you've probably seen in previous posts, I've been practicing my art skills in an app called ArtRage. Below is yet another gorgeous Sphynx cat I found on Instagram I had to paint. His eyes are such a beautiful green and I just had to paint them! As you can see in this unfinished study, I start with a pencil sketch and then go back in with the oil paint brush.
Below is another study I played around with on and off for a couple of weeks. This kitty was a beloved pet named Sam who lived in South Africa. Unfortunately, he crossed the rainbow bridge. He was featured on Sktchy app's Friday Face challenge and many artists around the world paid tribute to this little guy by painting his portrait. His cat mom is an artist on Sktchy and was touched by the outpouring of love for her sweet baby. RIP Sam.
Thanks For Stopping By The Studio!
If you'd like to see more of what I'm working on, stop by my gallery website or follow me on Twitter, Pinterest, Facebook or Instagram. I'd love to hear your feedback or check out what you are working on.
Other Popular Digital & Oil Painting Tutorials:
iPad Painting Tutorial – How To Paint A Cat
https://shelleyhannafineart.com/paint-a-cat/
Tips For Painting Silver Objects
https://shelleyhannafineart.com/painting-silver-objects/
How I Paint On The iPad – A Step-By-Step Portrait In ArtRage
https://shelleyhannafineart.com/paint-on-the-ipad-step-by-step/
7 Portrait Painting Tips For Traditional And Digital Painters
https://shelleyhannafineart.com/portrait-painting-tips/
How To Paint A Dog Portrait Step-By-Step In Oil
https://shelleyhannafineart.com/how-to-paint-a-dog-portrait/
Painting A Cat In Oil Featuring Prescott, A Gorgeous Maine Coon Cat