This article on how to paint a corgi has been on my "to do" list for almost a year. I actually had it written and was ready to publish when my website had a catastrophic failure and I lost the entire thing. Life certainly has its ups and downs and this past year has been full of challenges.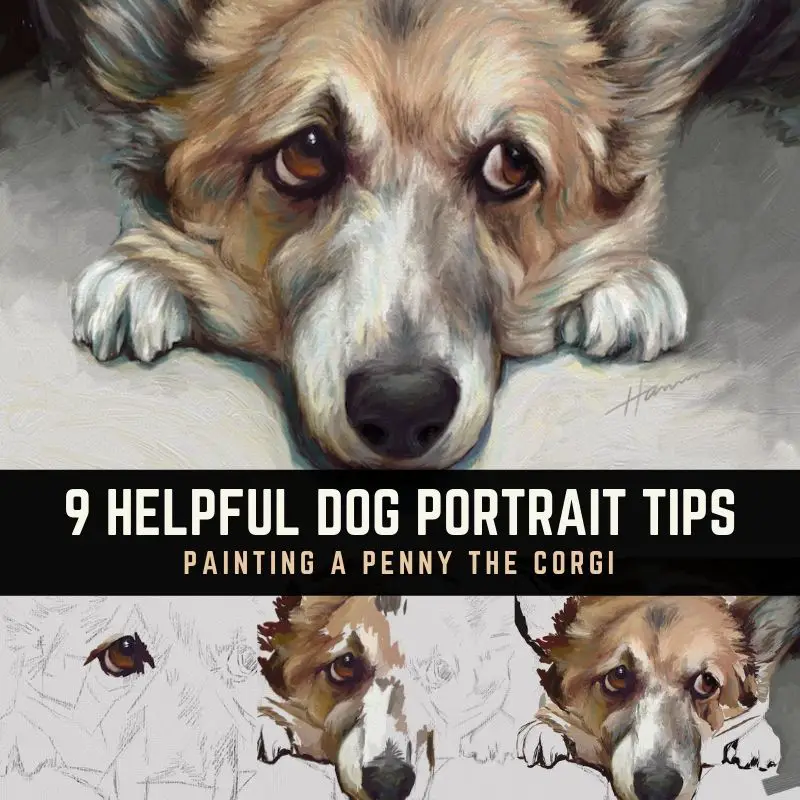 Fortunately, things have a way of eventually balancing out and creating art is one of the ways that distracts me from the harder things in life. I'll tell you more about Penny the corgi and her amazing human at the end of the article. But for now, let's dive into how to paint a corgi.
I painted this sweet girl on my iPad Pro using ArtRage. I am a traditional painter in oil and acrylic and use the same approach digitally that I would use on canvas.
Tip 1: How To Paint A Corgi – Early Success Can Help
I may be a traditional painter, but I'm also an impatient painter. Because of that, I can't seem to wait until the end of the painting to see if something is going to turn out. This was an important portrait for me to capture a likeness, so the emotion in Penny's eyes was of particular importance.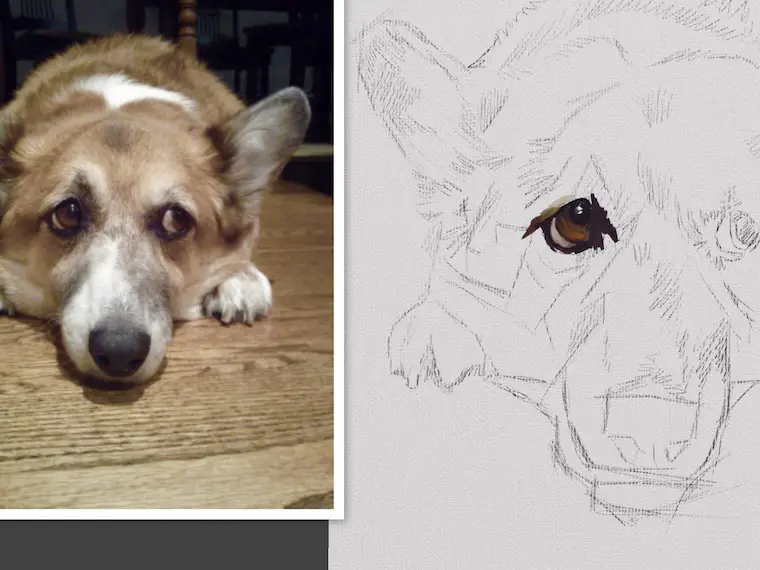 For me, getting the eyes right is the key to painting a portrait that connects with someone. Penny had such soulful and expressive eyes, which became the focus of this portrait.
There are many ways to approach a painting of a corgi. Usually, I recommend starting with laying in all of the dark values first. Then work up to the lighter values. The only thing with this approach is that the painting can look like a total mess and be discouraging in the middle of the work. This is why I sometimes get an eye fully developed so I have something successful to look at. An early success keeps me encouraged as I progress through the rest of the painting.
Tip 2: Get Messy And Work Fast
Speaking of making a mess, as you can see below I started to add in some of the mid-tones of Penny's fur. I've found that it's best to "blob" in these mid-tone colors as fast as possible, squinting the whole time.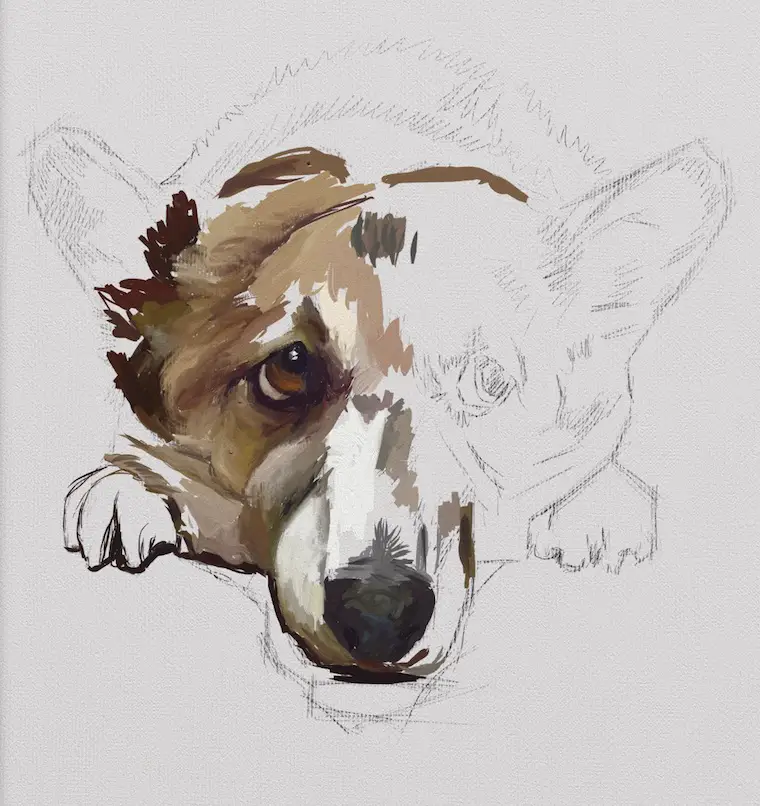 Laying the color down fast keeps your brain from over-thinking and squinting allows you to see the larger shapes of value and color.
When you work fast, it also keeps you from blending right away. The only problem with this is that you will feel like your painting is a total mess. But if you stay vigilant and get the right colors in the right place, the portrait will magically start to come together.
Tip 3: When Painting A Corgi – Make Things Small
Sometimes squinting or standing back from a painting isn't enough to see where the values may be off. This is when I take a photo or screenshot of my painting and look at it small on my phone. When it's tiny, it's easy to see where areas are too dark or too light in comparison to the original.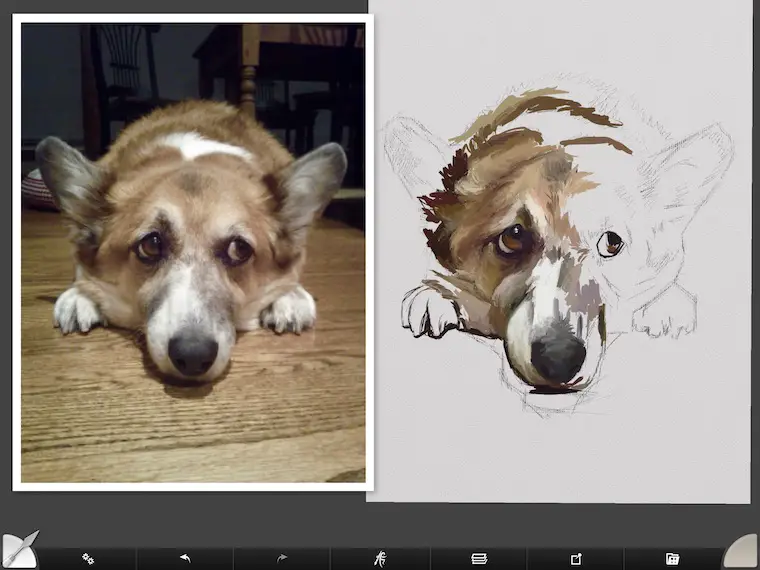 If you are working on an iPad, you can also position your canvas to the side of your reference at the same size. This makes it easy to move your eyes back and forth to look for differences. In traditional painting, this is known as the sight-size method.
Tip 4: Keep After Your Dark Areas
As I stated earlier, normally I would paint a corgi by laying all my dark areas in first and then add in lighter values. Even when I follow this rule, I find I am continually going back and re-establishing my darks.
In the screenshot above, you can see evidence that I've gone back and darkened some areas. If you don't keep after the darks, the whole painting can end up being too light. It's much easier to go from dark to light than the other way around.
In oil painting, once dark colors are polluted with white, it's really hard to turn things around. Wiping and scraping may be necessary. At least with ArtRage, you can use the eraser tool if things get out of control.
When I paint on the iPad, I almost always paint in one layer alla prima style. This means my dark areas can get contaminated with white just like with physical paint. Avoiding the eraser tool is always a goal of mine.
Tip 5: Blocking In The Background Helps With Seeing Values
Before I got too far along with putting down paint, I decided to rough in the background. Sometimes I put the background in first. I recommend if you have a dark background, add it sooner rather than later.
The reason for this is that if you don't put your background in until the end, you may find your colors and values are completely off when the painting is finished.
The eyes may see color accurately, but the brain will often have its own interpretation. Most people think things are lighter and brighter than what they really are.
Researchers believe we are attracted to bright, shiny objects because it instinctively reminds us of water. Whatever the reason, if you are aware that your brain will interpret something lighter than it is, then you can be more conscious about looking and seeing what the actual colors are. The trick is to paint what you see, not what you think you see.
Tip 6: Don't Worry About Blending Fur When You Paint A Corgi
When you take a good look at the portrait below, you see a lot of messy areas. But if you step back or squint your eyes, it's looking like a corgi.
Many pet portrait artists will leave the fur very abstract and messy which is perfectly fine. I do that many times myself. My goal is always to have it look real from a distance but look like a painting up close. I recently finished a portrait of a pug in oil where I talk about this.
I tend to go back and forth between high realism and more of a loose, impressionistic style. How I finish the painting has more to do with the overall mood I'm wanting to create and how much time I have to create it.
Tip 7: Painting A Corgi Using Complementary Colors
If a painting is looking too "flat", it can be livened it up with touches of complementary colors. As the portrait of Penny progressed, I realized this little corgi needed something to spice things up. Many times reference photos can be too monochromatic, and that is where the power of complementary colors comes in.
As you can see above, Penny the corgi has mostly golden and brown fur. Brown is basically considered a red and gold is in the yellow/orange family. If you look at the opposite of a color wheel, the complements to these colors would be in the blue/green zone.
On the canvas, I swatched blue and green colors that have been toned down quite a bit. I don't want my colors to vibrate too much. But I do want them to vibrate a little to add some energy to the overall work.
At this point in painting a corgi, I decided I liked the somewhat "Van Gogh" look that was starting to happen.
Tip 8: Don't Overblend When You Paint A Corgi
Since I was liking the energy of the brush marks, I made sure not to blend out the colors too much. I wanted the style to look like something between a Van Gogh painting and real dog fur. Because of that, I used a light touch when blending.
As you can see above, the portrait of Penny looks very painterly. I was liking the brush strokes and the drama they were creating. I was also taking care not to have the complementary colors be too strong. If the complementary colors become too strong, they can put emphasis on the painting style rather than the soulfulness of the dog.
Tip 9: Walk Away
When I find myself uncertain about how to finish a painting, I know it's time to let it go – at least for a while. This could be a couple of hours or a couple of days. The point is to find a way to forget about the painting and then come back with fresh eyes to make adjustments. Many times you will discover that you don't need to make any changes at all.
Painting is both a technical and emotional endeavor. Finding a balance sometimes means taking a break.
Below is the finished portrait of Penny. I liked how this portrait turned out and could look at those pretty eyes all day long.
Penny And Her Human
I promised at the beginning of this article I would tell you more about this sweet little corgi. I never got to meet Penny, but I sure did hear a lot about her over the years.
She was the beloved companion of my friend Julian and his family. He was heartbroken when she passed away and he talked often about how much he missed her. On one hand, he wanted to get another dog. But then again, he knew no dog could compare to Penny.
Julian and I worked together. He had a very long, successful career in healthcare marketing. He also had a wealth of knowledge on the latest of anything that was happening in the industry and loved to share what he learned. We had many fascinating conversations…about healthcare. Imagine that!
Beyond being a fantastic coworker, I saw Julian as the big brother I never had. He really looked out for me as I had no family in town. Julian was also a big family man and marveled at how lucky he was to have met his wife and have two incredible children. He talked about them all the time and was so proud of them.
News you never want to hear
In the fall of 2017, Julian and his wife went to visit their dear friends in Florida. While on the trip, they discovered unexpectedly that Julian was suffering from glioblastoma, a very deadly form of brain cancer.
Unfortunately, the area of his brain that was affected the most was the language part. This made it very difficult to communicate with him. He could understand what people were saying to him, but his brain was choosing words and phrases to respond back that didn't always make sense. What was fascinating though was that when he sent text messages, his sense of humor, enthusiasm, and positivity always came through even if the words were jumbled up.
Julian was extremely healthy and during the course of his treatment, it looked like he could be one of the few who could beat glioblastoma. But in early September 2018, things took a dramatic turn for the worse.
Since it was impossible to have a conversation, I thought the best way to communicate with him would be through art. This is where the portrait of Penny comes in. I knew how much he loved her and he was my biggest fan when it came to my artwork.
It sadly became clear that I didn't have a lot of time to create the painting. Fortunately, I did get it finished. His wife, Silvia, and children, Karina and Julian, got to share the portrait of Penny the day before he passed. They said it put a huge smile on his face. I hope in some way it communicated to him how important his friendship was to me. He was really good at being a friend. Ask any of his friends and they will say that he was the best.
You are missed
It's been almost a year since Julian left. It still seems impossible that he is gone. I hope he and Penny are together again. His multitude of friends, family, and former coworkers miss his incredible sense of humor, intelligence, positive outlook on life and huge heart. Even though he is gone, I still feel like I'm learning something new from him. When things get tough, I swear I can hear him saying "keep goin', kid".
Thanks, my friend.
_______________
Thank You For Reading About How To Paint A Corgi
Below are my other popular painting tutorials if you are interested in learning more. Simply click on a title below to view the article:
https://shelleyhannafineart.com/how-to-paint-a-senior-dog-portrait/